15 Second Video
BONUS: 15 Second Video Ad - Select 15 Sec. Video to REGISTER your Free Business Listing!
---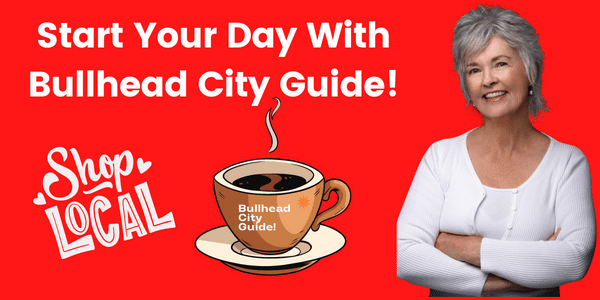 Add Your Business To our Business Directory!
Our Local content creates traffic and word-0f-mouth advertising.
Vist our YouTube Channel Click Here!

Bullhead City Guide is your "NEW" online Business Directory. We offer every business and organization a free listing so online visitors can find them quick with just a click. When you register your business in our online directory, we provide a link back to your website.
Thousands of local visitors each month search Bullhead City Guide for our local content.
Bullhead City Guide highlights local area businesses throughtout the Tri-state Area. Our staff will be hosting "Live Events" on YouTube, Amazon, and FaceBook. We will feature local civic, school, church and local sports events.
Your Business May Already Be In Our Business Directory
If your business is already listed in our directory - when you register your free basic business account, you will be able to edit/update your listing. If your listing is not listed - simply add your listing in up to 3 categories. You will have 1000 characters to add your business description, and if you choose, you will be able to upload one photo. We provide a link back to your website.
We've listed every local business from the available public records. Like the yellow pages, the information in public records is often incorrect or out of date.
Let's ensure that your information is accurate and up to date. It will only take a moment to ensure that local area residents are seeing exactly what you want them to see.
Place your free listing now, in just minutes - Click Here! -
---
Basic Business Listing Benefits
Business lising in up to 3 categories
up to 1 image
Description up to 500 characters
Link to your website
Articles
The Articles section is where you can submit an article about your business. You can make your article really interesting my adding photos. Click here - to view the User's Guide Tutorial.
Events Calendar
Does Your business have an up coming event you would like to post on our Events Calendar? Post it in our local Events Calendar for Free!
Click here to post your event. To enter an event: Click on the number of the date you wish to post the event for. Then simply complete the entry.
Auto Sales Listing
The Cost to list Your Auto or Autos for Sale is 1.00 per week. You must register a free account to use this feature. Click here to view our Auto Listing form.
Invoices
The invoice section shows you payments made, as well as payments due. You will be able to track all your payments here. Click here to view our User's Guide - Invoice.
Account
The Account section allows you to update some of your personal information associated with our directory. In the account section you will be able to edit/change your password or change your display name. If you need to modify your email address or username, please ccontact the site administrator. All email changes must be verified to be a legitimate email associated with you for security reasons.
FAQ's - Frequently Asked Questions.
USER GUIDE
To Register - Click Here!
Your ads will be working for you 365 days a year, 24 hours a day, and you can update your ad description, change prices, ad banners and more at anytime.

---